Do you dream of sipping on a perfectly brewed, creamy cappuccino without needing to leave your house? Look no further! We've researched and reviewed the best cappuccino machines for home to help you achieve cafe-level quality in the comfort of your kitchen.
But with so many options on the market, choosing the right cappuccino machine can be overwhelming. Not to worry, we've got you covered with our comprehensive buying guide. So sit back, relax, and get ready to indulge in a rich, velvety cappuccino any time of day!
Comparing Our Favorite Cappuccino Machines for Home
Reviewing the Finest Cappuccino Machines for Home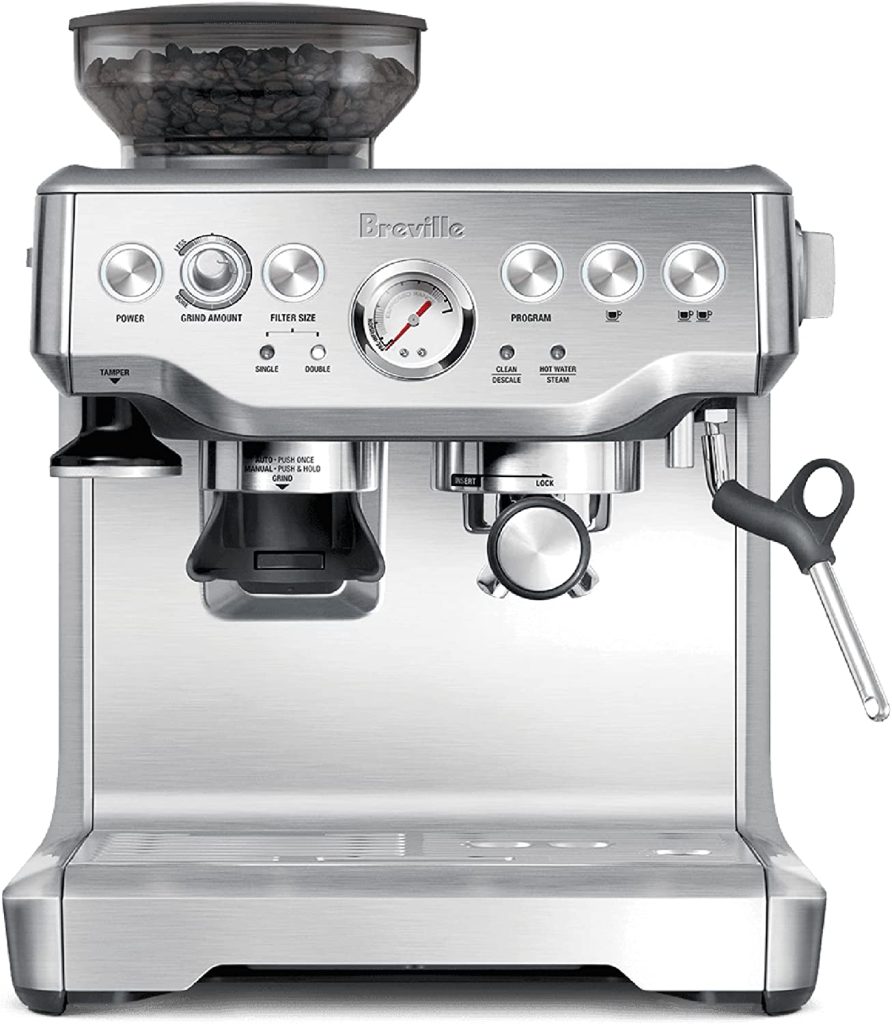 This home cappuccino machine offers a cafe-quality coffee experience in the comfort of your home. With a dose of 19-22 g of freshly ground beans, it ensures a full-bodied and rich flavor in each cup. Its digital temperature control technology guarantees precise water temperature control, resulting in perfectly balanced coffee extraction and consistent taste.
Moreover, this machine offers a low-pressure pre-infusion feature to soak the grinds and allow for even water passage during high-pressure extraction. With precise control over every aspect of the brewing process, you can create rich, nuanced coffee flavors and creamy, velvety milk textures – all in the comfort of your kitchen.
Reasons to Buy
Precise temperature control for balanced extraction
Value for money
Micro-foam milk texturing for a velvety mouthfeel
Grind size dial for customization
Reasons to Avoid
Steep learning curve for beginners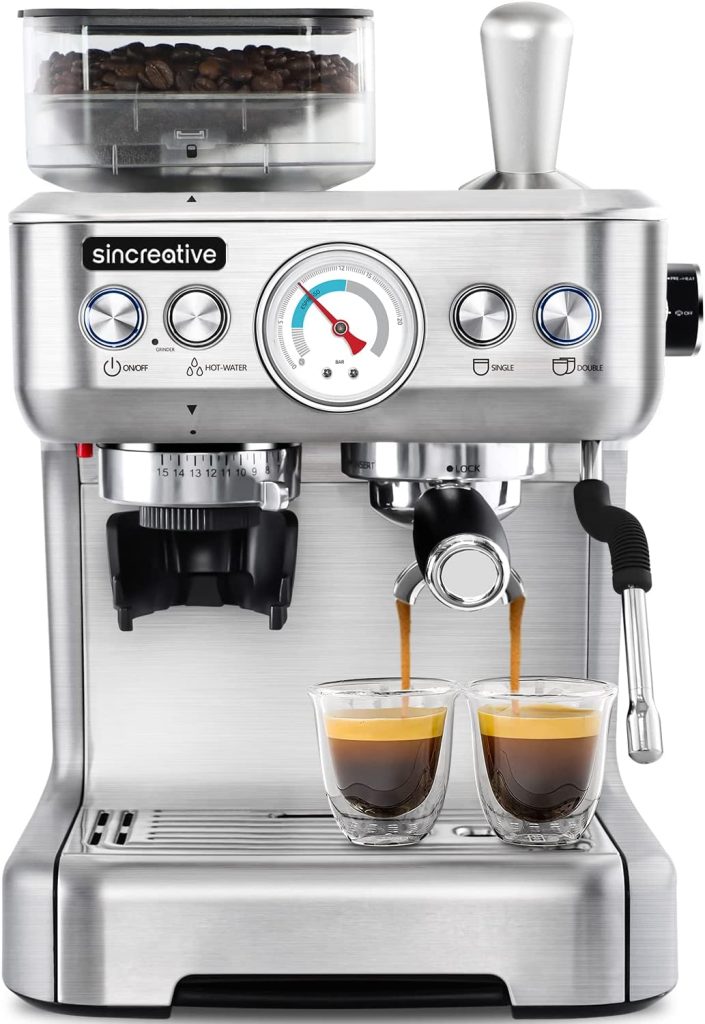 This cappuccino machine is a great choice for those who want an affordable yet high-quality espresso maker at home. Its 20-bar pressure and digital temperature control ensure optimal espresso extraction. It also offers manual microfoam milk texturing with a powerful steam wand to add to the overall coffee experience.
This cappuccino machine with its simple and clear dial interface is extremely easy to use. Moreover, its removable water tank makes it easy to refill and reattach. Also, its visible water level adds to its convenience.
Reasons to Buy
Powerful steam wand for microfoam milk texturing
Simple dial interface for selecting steam
Pre-programmed single and double shot options
Cheaper than most options on the market
Reasons to Avoid
Limited customization options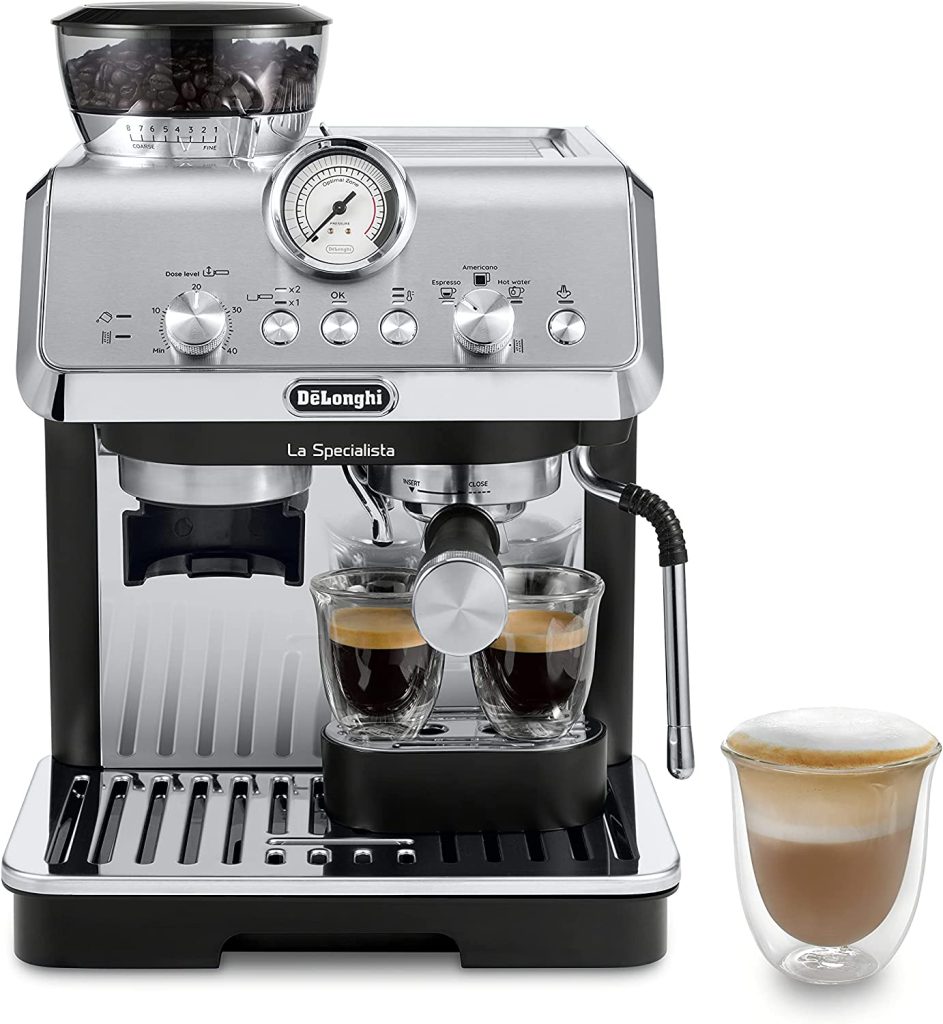 This cappuccino machine comes equipped with a conical burr grinder, ensuring a consistent grind size for optimal extraction. Its barista kit includes a tamper, milk jug, and two portafilters, giving you all the necessary tools for creating cafe-quality beverages at home.
Moreover, it offers active temperature control to ensure that water is delivered at the perfect temperature. This machine also features 3 pre-set coffee recipes for Espresso, Americano, and Hot Water for easy personalization. With all these features, it's no surprise that this cappuccino machine is a top recommendation for perfect grinding, allowing you to create a variety of delicious beverages with ease.
Reasons to Buy
Compact design for easy storage
Barista kit and latte art wand for creative customization
Versatile with multiple recipes and temperature settings
Reasons to Avoid
Limited recipe options compared to some competitors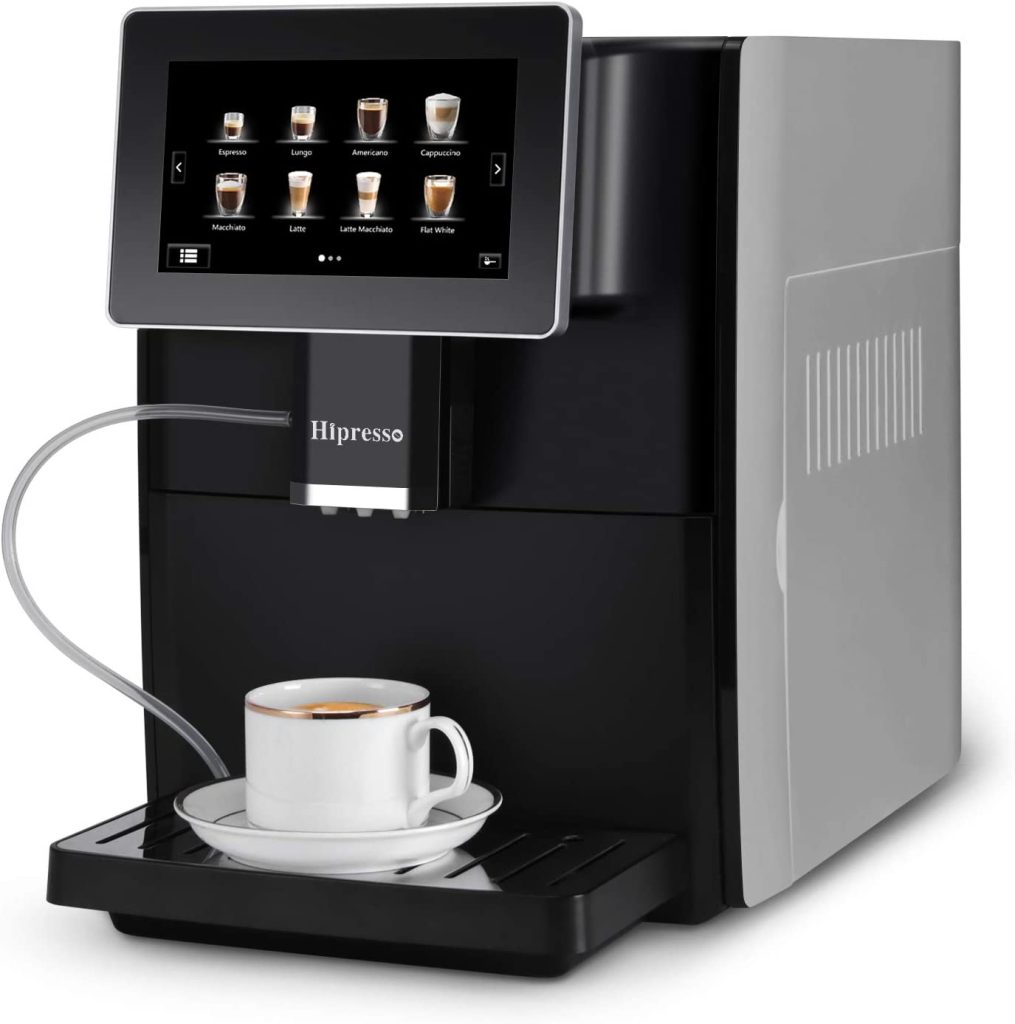 This cappuccino machine for home boasts a 7-inch display that lets you choose from a variety of coffee drinks. These include cappuccino, latte, macchiato, flat white, and espresso. It also packs a 19-bar professional Italian pump that ensures consistent extraction, resulting in a perfect espresso every time.
Additionally, this machine is programmable, allowing you to customize your drinks to your liking. It also offers a dual heating system, ensuring you get velvety, micro-foamed milk for your cappuccinos. Overall, this cappuccino machine is great for people seeking a high-quality cappuccino machine with various drink options and a quick brew time, all in an ergonomic design.
Reasons to Buy
Large 7-inch display for easy drink selection
Programmable for customized drink options
Dual heating system for quick and efficient brewing
Automatic clean system for easy maintenance
Reasons to Avoid
Higher price point than some other options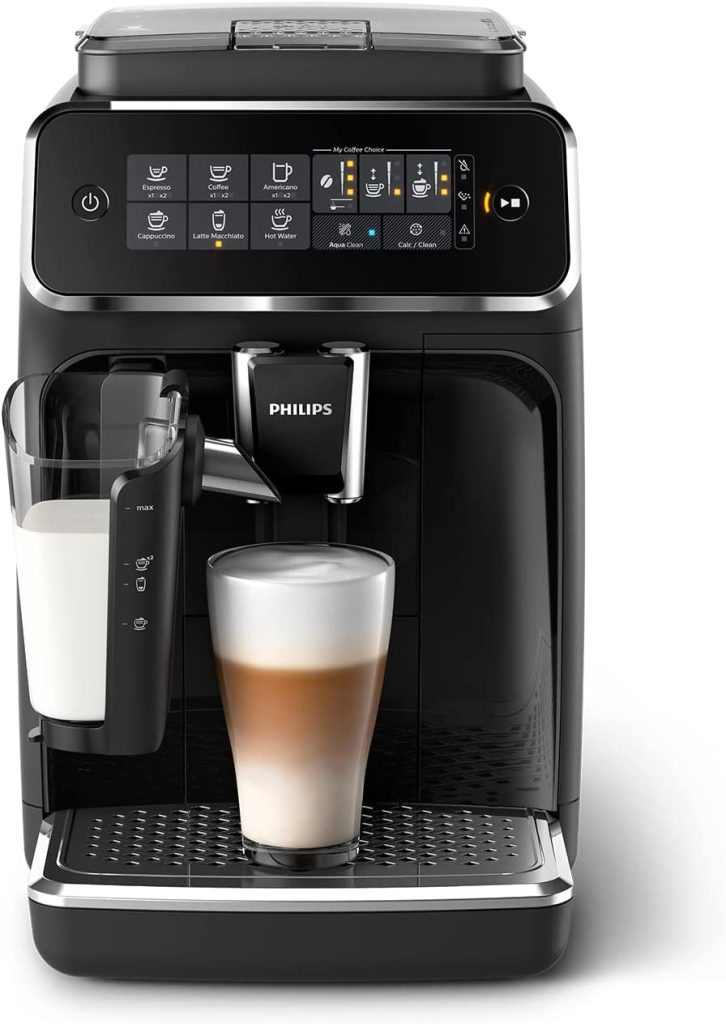 This fully automatic coffee machine with an intuitive touch display is the perfect addition to any home. Its durable ceramic grinders are built to last and provide an even grind every time. Cleaning the machine is a breeze, thanks to its dishwasher-safe parts and easy cleaning process.
With a premium look and 12-step grinder adjustment, this machine will make you feel like a professional barista in the comfort of your own home. Its intuitive touch display allows you to easily select from a variety of coffee options, including cappuccinos, lattes, and espressos. Moreover, it's the best option for those who want to make coffee with the click of a button. No need to grind beans or froth milk manually – this machine does it all for you.
Reasons to Buy
Great value for money
Intuitive touch display
Durable ceramic grinders
Dishwasher safe parts
Reasons to Avoid
May not produce the highest quality espresso
How to Buy a Cappuccino Machine for Home? A Buyer's Guide
Deciding between the top cappuccino machines for home can be tough, as there are a lot of choices. Here's a buying guide to help you make an informed decision.
Types of Cappuccino Machines for Home
Semi-automatic machines
Generally speaking, Semi-automatic machines have a built-in pump and boiler for brewing espresso and a steam wand for frothing milk. They offer various customization options, as you can adjust the grind size, tamping pressure, and milk texture to your liking. Semi-automatic machines are popular among home baristas who want more control over the brewing process.
Automatic machines
Automatic cappuccino machines make the brewing and milk frothing process easier and more convenient for home baristas. They usually have pre-set functions for brewing and milk frothing, so you can simply press a button, and the machine will take care of the rest.
Pod machines
Pod machines offer pre-packaged coffee pods to eliminate the need for grinding and tamping coffee. Simply insert the pod and press a button to make a cappuccino. With that at hand, pod machines are a great convenient and easy-to-use solution for home cappuccino machines.
Manual lever machines
Manual lever machines are a traditional type of cappuccino machine. They require you to manually control the pressure and temperature during the brewing process. They're more suitable for experienced baristas who value precision and control over the brewing process.
Dual boiler machines
Dual boiler machines are high-end cappuccino machines with two boilers – one for brewing espresso and one for steaming milk. It allows for greater temperature control and consistency when making cappuccinos. Greater control makes dual-boiler machines suitable for professional baristas seeking ultimate control over their espresso and milk texture.
Things to Consider Before Purchasing a Cappuccino Machine for Home
Skill level
When it comes to making cappuccinos at home, your skill level can play a big role in choosing the right machine. If you're new to making espresso or frothing milk, a simpler machine with automated features may be the best choice. But if you're an experienced barista and want full control over the brewing process, a manual lever machine may be more up your alley.
Maintenance
Maintaining a cappuccino machine is crucial for ensuring its longevity and optimal performance. Before making a purchase, consider the machine's maintenance requirements and whether you are willing and able to keep up with them. Some machines require daily cleaning, descaling, and regular part replacement, while others may be low-maintenance and require less upkeep.
Size
Cappuccino machines come in various sizes, from compact models that fit on a countertop to larger machines that require more space. When purchasing a machine, consider the available space in your kitchen and choose a model that fits comfortably. Also, think about the machine's water tank size and capacity, as larger tanks may require more space but require less frequent refilling.
Features
Cappuccino machines can come with a wide range of features, including programmable settings, built-in grinders, dual boilers, and more. Consider which features are most important to you and your cappuccino-making needs. Remember that machines with more features come with a higher price tag, so it's important to prioritize your needs and budget accordingly.
Price
Cappuccino machines vary in price, with some basic models costing under $100 and more advanced models costing several thousand dollars. Before making a purchase, consider your budget and what features are most important to you. While a more expensive machine may have additional features and better build quality, be sure to consider one according to your budget.
Brand and reputation
When investing in a cappuccino machine, it's preferable to choose a reputable brand with a strong track record of quality and customer support. Research different brands and read reviews from other customers to determine which ones have a good reputation in the market. Also, choose a brand that offers good warranties and customer support to ensure you can get help if you encounter any issues with your machine.
People Also Asked
How to make a professional cappuccino at home?
To make a professional cappuccino at home, start with freshly roasted beans and properly frothed milk. Remember, investing in a high-quality cappuccino machine is key, as it ensures consistent espresso shots and a rich, creamy froth. Practice steaming milk to the perfect temperature and pouring it over the espresso for a delicious, cafe-quality cappuccino.
What is the difference between a latte and a cappuccino?
The key difference between a latte and a cappuccino lies in the milk-to-espresso ratio and the foam amount. A latte has more steamed milk and a thin layer of foam, while a cappuccino has equal parts of steamed milk, foam, and espresso. A cappuccino typically has a stronger espresso flavor and a thicker, creamier texture.
Do I need to be an experienced barista to use a cappuccino machine at home?
No, you don't need to be an experienced barista to use a cappuccino machine at home. Most machines come with clear instructions and are user-friendly. With some practice and experimentation, you can learn how to make delicious cappuccinos and other coffee drinks at home using a cappuccino machine.
What is the difference between a manual and an automatic cappuccino machine?
A manual cappuccino machine requires you to manually control the amount of water and steam and froth the milk separately. Whereas an automatic cappuccino machine automates this process with pre-set functions for brewing and milk frothing. That said, manual machines offer more control and flexibility, while automatic machines are more convenient for everyday use.
How much space do I need for a cappuccino machine in my kitchen?
The amount of space you need for a cappuccino machine depends on the size of the machine and its accessories. Most machines have a compact design that fits easily on a countertop. But remember, you'll also need space for a grinder, milk frother, and other coffee accessories. So, be sure to measure your available space before purchasing a cappuccino machine for your home.
Conclusion
Owning a high-quality cappuccino machine can make all the difference in your morning routine. With the right cappuccino machine, you can enjoy a perfect cup of cappuccino from the comfort of your home. No more waiting in long lines or settling for subpar coffee. So, get yourself the best cappuccino machine for home today and start enjoying the perfect cup of coffee every morning!